Student Housing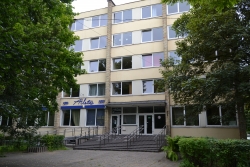 Each incoming student may apply for a living place in one of the students' dormitories situated in the area of University campus (Perkūno al. 3 and Aušros g. 42A).
The monthly rates:
Information will be provided soon.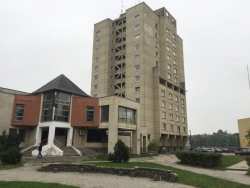 A refundable deposit must be paid upon arrival: 240€ for dormitory in Perkūno al. 3, and 240€ for dormitory in Aušros g. 42A.
Rooms are furnished with beds, wardrobe, desk and desk chairs. The student does not need to bring the bedding and bed linen, as he/she will get it in the dormitory, but the dormitory administration does not provide towels. The student also has to buy the kitchenware (flatware, cups, plates, etc.) upon arrival. The kitchen (bathroom as well) will be shared with other students. The rooms are supplied with internet connection, but not computers, thus, the student has to bring his/her own computer or rent it upon arrival.
To apply for accommodation in the Students' Dormitory, please send the Application Form for Accommodation (see below) together with other application documents.
Accommodation in the private sector is also available, but International Relations Office does not mediate in finding a flat and dealing with its owner. The rental price for a flat varies considerably from district to district and depends on the number of rooms, living conditions, period of rent, etc. To rent a one-room flat may cost from € 200 to € 400 per month or more, plus public utilities. The owner usually wants to get the payment three or more months in advance.
Contact person for accommodation:
Mr Mantas Valavičius
Dormitory administrator
Lithuanian Sports University
Address: Sporto g. 6,
LT-44221 Kaunas
Lithuania
Tel.: +370 68604819